Combiner Boxes
Combiner Boxes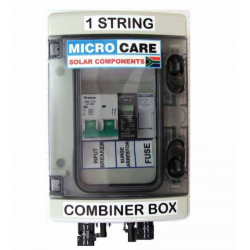 Microcare 1 string Grid Tied Combiner Box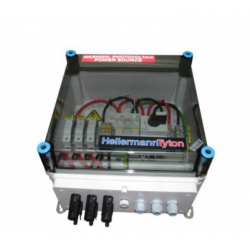 HellermannTyton 3 String Solar Combiner Box with SPD
3 String Low Voltage Combiner Box
The  3 string  Low  Voltage  Combiner  Unit  is  a  critical  component  of  any  PV  Solar  installation  providing  functions  such  as  safety  and  surge  protection  for  your  system.  

The  unit  offers  isolation  between  the  DC  voltages that are generated by the PV modules and the solar installation allowing for safety while working  or  maintaining  the  system.
With  fusing  and  short  circuit  protection  the  PV  modules  and  components  can operate optimally with lightning protection included. Combining multiple series strings from the PV modules the unit allows for a single parallel connection to the MPPT charge controller.
3 PV Series String into 1 Parallel Output
Surge / Lightning Protection
Isolation of PV DC voltages
Fuse Protection
Easy MC4 cable connectors
Easily connect PV arrays to solar equipment
| | |
| --- | --- |
| LV | 3 Strings |
| No. of String Inputs | 3 |
| Max PV Input of 135V at 25ºC | 150 VOC |
| Max Input Current per series string | 10A |
| Fuse Rating | 25A ceramic |
| Input Cable Size | 6mm² |
| Output Cable Size | 10mm² |
| Input Connection | MC4 |
| Output Connection | Rail Mounted Terminals |
| Dimensions (HxWxD) | 260 x 300 x 130 mm |
| Weight | 3kg |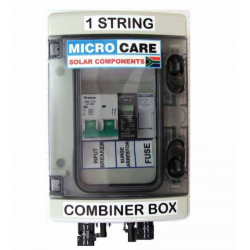 Microcare 1 string Grid Tied Combiner Box
The Microcare Combiner Box is a connection between the PV Panels and the Grid Tied Inverter. It provides independent cut off between the panels and the inverters and facilitates surge arrestors for lightning protection and fuses. The 1 string Box is for use with the 1.5kW and 3kW Single Phase Inverters.
The Unit consists of:
1 x Isolator
1 x Fuse
1 x Surge Arrestor
Dimensions:
Height: 210mm
Width: 140mm
Depth: 100mm
Microcare 1 string Grid Tied Combiner Box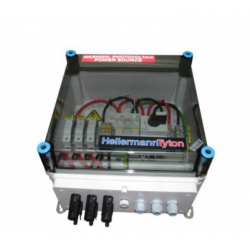 HellermannTyton 3 String Solar Combiner Box with SPD (SPA-HET-SPD-3)
Technical specifications
Number of Strings: 3 Strings.
1000V DC gPV Fuses on +ve.
1kV 20kA surge protector.
Individually certified and tested.
MC4 connectors for incoming strings, screw terminals for outgoing connections.
IP Rtaing: IP65.
Pressure compensation devices to avoid condensation.
No Isolator.
HellermannTyton 3 String Solar Combiner Box with SPD