Search
Search Criteria
Products meeting the search criteria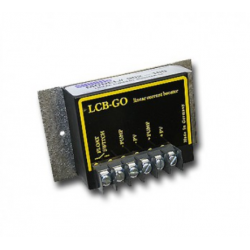 Shurflo 24V DC Pump Controller 902-100 LCB-GO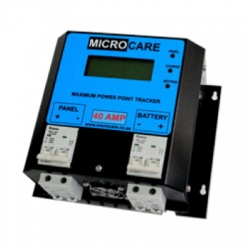 40 Amp LCD Microcare MPPT Solar Charge Controller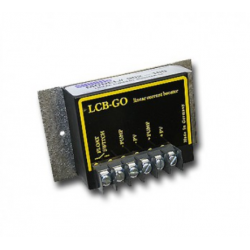 Shurflo 24V DC Pump Controller (SPP-SH-PC-24V-LCB-GO)
Boost your DC solar pumps performance by up to 30%. Controller optimizes your solar water pumping system by translating the current and voltage available from your photovoltaic panels, into a combination that is better matched to that needed by the pump.
With the optional float switch installed, the controller will automatically stop pumping when the reservoir is full.

Features

* Operates on 24 VDC.
* Increases daily water output up to 30%.
* System starts pumping earlier in the morning.
* System stops pumping later in the evening.
* Protects pump from low or high voltage conditions.
* Terminals for float switch.

Technical Specifications

* Maximum power output 150 Watts
* Over temperature shutdown 176ºF (80ºC)
* Ambient temperature 14ºF (-10ºC) to 113ºF (45ºC)
* Max. Array Input Voltage 45V
* Min. Startup Voltage 25V
* Shutdown Voltage 28V
* Max. Output Current 5 Amps
Shurflo 24V DC Pump Controller 902-100 LCB-GO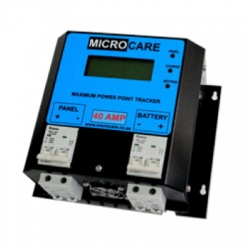 40 Amp LCD Microcare MPPT Solar Charge Controller (MICROCARE40MPPT)
40 Amp LCD Microcare MPPT Solar Charge Controller for sale South Africa
Microcare MPPT Solar Charge Controllers are proudly South African. The Microcare MPPT utilizes PWM and integrated technology to provide greater than 96% efficiency from your solar panels. The actual charge current increase you will see varies primarily with module temperature and battery voltage. In comfortable temperatures, current increase typically varies between 10 to 25%, with 30% or more easily achieved with a discharged battery and cooler temperatures.
What you can be sure of is that the Microcare MPPT charge controller will deliver the highest charge current possible for a given set of operating conditions. The ability to step down a high voltage solar array to a low voltage battery can save you money by reducing the size of the wire required and making the installation simpler and faster.
Features:
* Automatic selection of Battery voltage (12v-48v)
* Input panel voltage (20voc-150voc)
* Circuit Breaker protection – Full input and output protection
* Electronic current limiting.
* 4 Line LCD Display
* Battery Voltage
* Charge Mode (Equalize, Boost and Float.)
* Charge Current
* Panel Voltage
* Output Power from Panels
* State of charge
* Data Logger
* 24hr Average
* 60 day logger
* Programmable features
* Accessories. Battery/ Temperature Sensors, Daylight Switch, Relay Interface. Radio Link.
* Peak greater than 96% efficiency
40 Amp LCD Microcare MPPT Solar Charge Controller